Do you suffer from sugar-induced breakouts or wrinkles that you think might be helped along by all the dairy-rich desserts you like to indulge in? Don't worry if you have a sweet tooth – you don't have to swear off treats altogether, but you certainly can choose recipes that are less problematic for the skin, and you can even find some that have beneficial ingredients for a glowing complexion! But remember, all food, including desserts, should be eaten in moderation!
Here are three of our favourites…
Sugar-free apple, raspberry and cinnamon crumble for acne sufferers
This is the perfect winter treat and unlike diary-rich, fudgy or chocolatey desserts that wreak havoc on your skin, it actually has ingredients that are good for you! Apples, raspberries and cinnamon all work against acne breakouts for a number of reasons.
Berries, including raspberries, blueberries, cranberries and blackberries are packed with antioxidants, which are essential nutrients that protect against inflammation and can reduce acne breakouts. Apples are full of water, fibre, vitamins A and C, calcium and iron – all of which are very beneficial to the skin's health and appearance. And the antibacterial, anti-inflammatory and antioxidant qualities in cinnamon make it a fantastic acne-fighting spice to go with apples and raspberries.
Although this recipe is free from refined sugar, there are still plenty of carbohydrates and sugar in the fruit and honey, so another reminder to eat it in moderation, as a treat!
Ingredients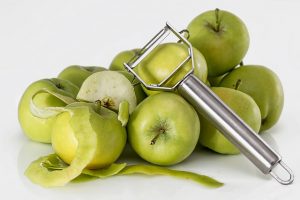 7 cooking apples like granny smiths
1 Cup fresh raspberries
1 cinnamon stick
1 tsp honey
For the crumble
2/3 Cup of oats
1/4 Cup crushed almonds
1 Tbsp whole wheat flour
2 tsp olive or almond oil
1 Tbsp honey
2 tsp liquid stevia (if you don't have stevia, add another 2 tsp honey)
Pinch of cinnamon
Pinch of nutmeg
Method
1. Preheat your oven to 200°C/gas 6.
2. Peel, core and slice the apples and place them in a saucepan.
3. Add the raspberries, cinnamon stick and honey to the saucepan and add 50ml of water. Place over medium heat and simmer for about 10 minutes.
4. Remove the cinnamon stick and pour the fruit into an ovenproof dish.
Crumble
1. Combine ingredients in a large bowl and mix thoroughly. You can start with a wooden spoon but it helps to finish combining with your hands.
2. Cover the fruit with the crumble mix.
3. Bake for 15-20 minutes or until the topping is crisp and golden.
Strawberry, orange and almond muffins for smooth, wrinkle-free skin
This is another delicious treat or dessert with ingredients that are great for your skin. The strawberries in these muffins contain the antioxidant ellagic acid, which helps with collagen production, and orange zest has a large amount of vitamin C and about four times the amount of fibre than orange flesh. The vitamin C stimulates collagen production, helping to prevent the skin from loosening with age. Most muffin recipes call for milk, so using almond milk instead of cow's milk is a great option. While cow's milk has been blamed for a number of skin problems, including wrinkles, unsweetened almond milk is rich in vitamin E, which helps protect the skin against harsh environmental elements like wind and sun.
Ingredients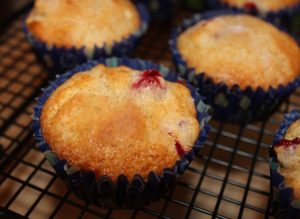 2 Cups whole wheat flour
1 Tbsp baking powder
½ Cup vegetable oil
½ Cup honey
2 eggs
½ Cup unsweetened almond milk
Zest of one orange
2 Cups strawberries, chopped
1 Cup sliced almonds
1 tsp cinnamon
Method
1. Preheat oven to 180°C and place muffin cups in a muffin baking tray.
2. Mix the oil and sugar in a mixing bowl and whisk in the eggs, one at a time until just blended.
3. Fold in the strawberries and almonds.
4. Add the flour and baking powder.
5. Fill each muffin cup, nearly to the top.
6. Bake for 25-30 minutes or until an inserted skewer comes out clean (except for maybe a bit of raspberry!).
You can store these muffins in an air-tight container for up to three days.
Pumpkin smoothie with avocado for moisturised, glowing skin 
Smoothies are a fantastic breakfast option or afternoon snack, and this delicious, creamy option is filled with skin-loving ingredients full of flavour and spice! Fruits, vegetables, seeds and spices are all incredibly important in a balanced diet, and fresh, healthy food is the ticket to a glowing complexion. Avocados are filled with healthy fatty acids, vitamins and antioxidants that improve the skin from the inside out, and pumpkin is packed with vitamin C, which encourages collagen production, resulting in increased elasticity and a natural glow.
Ingredients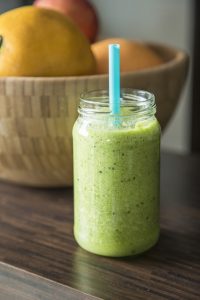 1 banana
1 Tbsp chia seeds
60 grams pumpkin
½ an avocado
2 Cups baby spinach
1 Cup almond milk
1 tsp cinnamon
Pinch of cayenne pepper
Pinch of nutmeg
Method
1. Boil the pumpkin until soft, drain and blend. Leave it to cool.
2. Peel and roughly chop or break up the banana and add it to the blender.
3. Scoop out the flesh of half an avocado and add it to the blender.
4. Add remaining ingredients and blend until smooth.
Nuriss is a skincare and wellness centre based in the heart of London, offering a range of services from skincare to nutritional support.