Anti-Wrinkle Injections and Filler
Nuriss offers a curated selection of 'prescription only' anti-wrinkle Injections and filler treatments, designed by Dr. Anita and carried out by our medical team. Our injectables protocol will be prescribed after a skin health management consultation with one of our medical experts.
Our doctors and nurses specialise in an injectable approach that pairs wrinkle softening with subtle restructuring of the facial contours. Our signature approach is for natural-effect lip filler and gentle anti-wrinkle Injections. We address changes in the facial muscles, migration of fat pads and increased skin laxity to achieve a more youthful and rested appearance.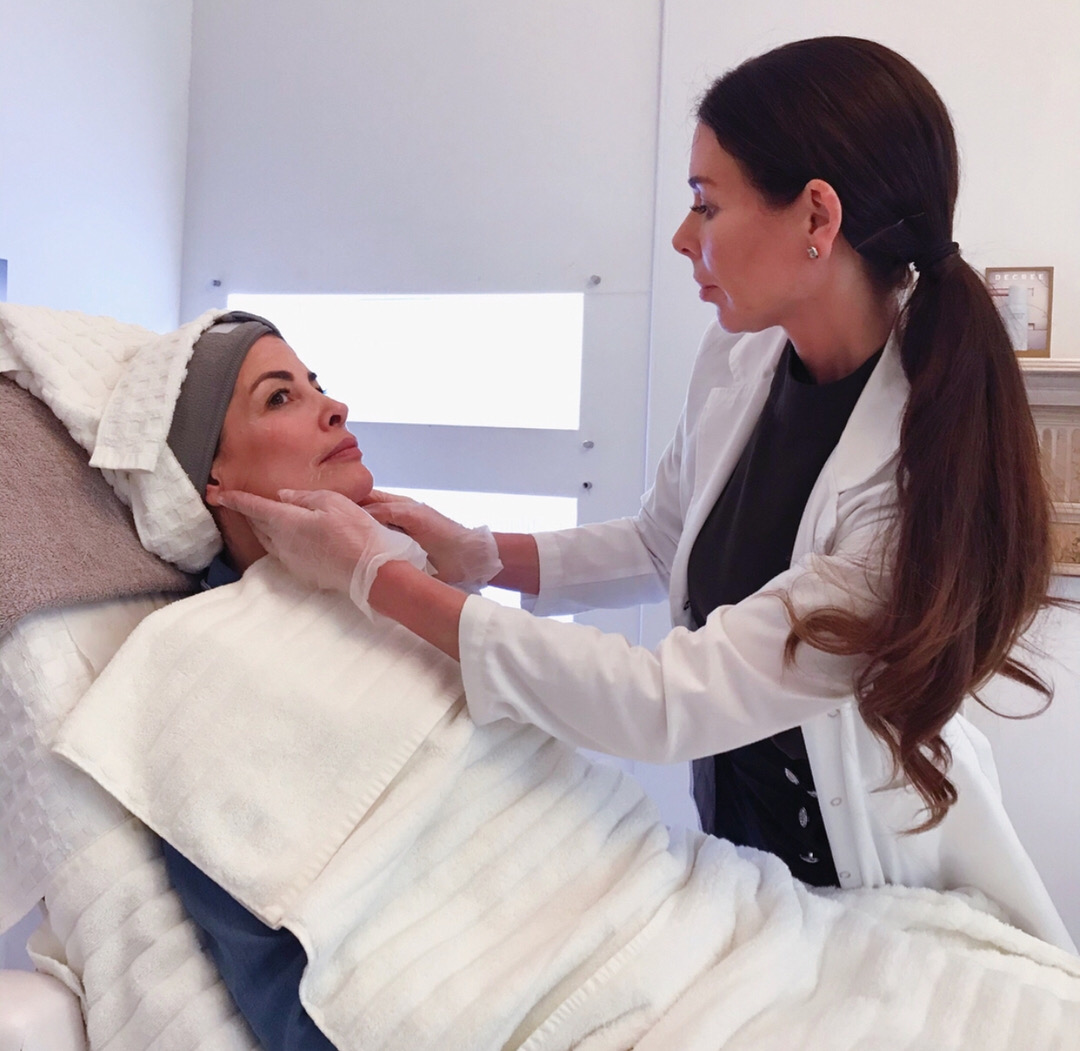 The Nuriss difference
We like to use Anti Wrinkle Injections and volumising hyaluronic acid fillers in synergy, as we believe they are complementary techniques which should not be considered in isolation of one another.
Our approach to injectables goes beyond treating wrinkles. Good injectables improve your entire facial structure, from the deeper layers up to superficial lines. We always look at the face as a whole and consider how to use injectables to balance the lower and upper portions of the face. We use a vascular torch to identify veins and capillaries to avoid bruising at the site of injection. Additionally, we always apply a topical anaesthetic cream to improve patient experience.
The treatment lasts for 60 minutes. Expect to notice some immediate swelling in areas treated with fillers, which will typically resolve within 72 hours. In some cases bruising may occur, most commonly on the lip area. This can be covered with makeup and will typically resolve within 72 hours.
Recommended for: Treating fine lines, deeper wrinkles and loss of volume in the face. Additionally nose reshaping, lip augmentation, cheek enhancement, jawline restructuring and tear-trough filling.
Benefits: Reduced wrinkles, rejuvenated and firmer facial contours, replaced and enhanced volume, more youthful and lifted appearance. Expect to see benefits immediately with fillers; Anti-Wrinkle Injections reaches peak effect at 14 days post treatment.
Frequency: Anti-Wrinkle Injections + Filler treatments are optimally reassessed 2 times per year. This is because the effects of fillers commonly last for between 6 months and 2 years (depending on placement and the viscosity of product used) and the effects of Anti-Wrinkle Injections commonly last for 3 to 6 months as individuals metabolise it at different rates. We prefer to wait until partial movement has returned before retreating.
Duration: 60 minutes
Aftercare and downtime: Minimal to moderate. Expect to notice some immediate swelling in areas treated with fillers which will typically resolve within 72 hours. The area(s) should be treated very gently within this timeframe; your practitioner will clearly explain a recommended post-filler massage technique, to be performed at home. Pinprick marks may be visible at sites of injections for up to 24 hours. In some cases bruising may occur, most commonly on the lip area. This can be covered with makeup . Avoid clinic facials for 2 weeks; flying for 72 hours, exercise for 48 hours
Need to know: Because we take a conservative stance on injectables and pride ourselves on achieving a balanced and natural look, we always give patients the option of a complimentary follow up appointment approximately 2 weeks after treatment. In this we review the results of the initial treatment's effects and administer additional Anti-Wrinkle Injections and/or filler if necessary.
START YOUR JOURNEY TODAY
It's time to realise the best version of yourself. Whatever it is you would like to achieve, let Nuriss help you get there, as we can make 'your perfect' possible. Book a consultation with one of our experts today.