Eating healthy can be easy and delicious, and with a bit of experimentation and creativity at home, you can turn some of your favourite recipes into ultra-healthy super meals, or at least make them a bit less fatty than they otherwise were!
Nuriss is a skincare, health and wellness centre in the heart of London with expert nutritional support, and we will be introducing some healthy and delicious recipes into our blog very soon! In the meantime, see how many of these substitutes you can use in your own cooking. Good luck and bon appétit!
Dates instead of sugar and flour in biscuit bases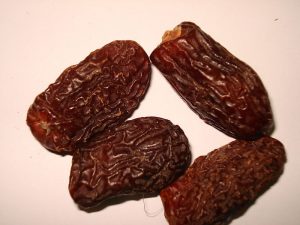 Imagine a delicious rich, fudgy chocolate pie with a sweet, crumbly biscuit base. Now imagine that indulgent dessert actually being healthy! It won't be low in calories but it will fill you up and actually have nutritional benefits if you use a few substitute ingredients. To start with, use blended dates as the main ingredient in the base crust with, say chia seeds or ground almonds. It will act as your butter and sugar all in one and give the base a mouth-watering caramel taste!
Avocado instead of butter and flour in chocolate pie or tart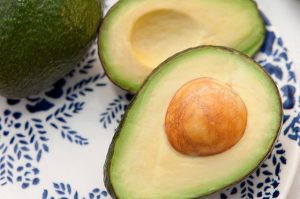 Now for the filling! Try using avocado, cacao powder and stevia sweetener instead of all the sugar, butter, cream and whatever other artery-clogging ingredients would usually go into such an indulgent, rich dessert. You won't even taste the avocado, but it gives it an unbeatable creamy texture that you have to taste to believe. Plus you'll be getting all the nutritional goodness of an avocado in one mouth-watering dessert!
Almond milk instead of dairy milk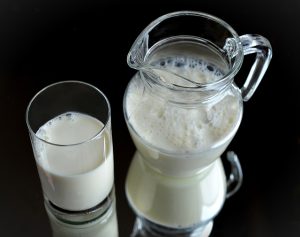 Dairy has been blamed for causing skin problems and breakouts, as well as other health issues. Almond milk is just as tasty, less fatty and is actually good for your skin! Try using it in your breakfast oats or as an alternative ingredient in baking and see what you think.
Cooked apple instead of butter, sugar and flour in brownies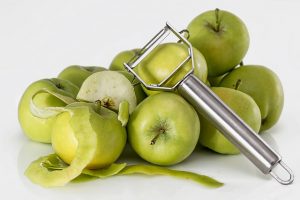 There are some delicious fudgy brownie recipes floating around the internet that call for stewed apple as the main ingredient. It acts as a mega substitute for butter, sugar and flour and gives the brownies an unbeatable moist, fudgy texture.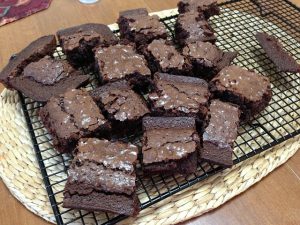 Oats instead of crushed biscuit or breadcrumbs in baked fruit crumbles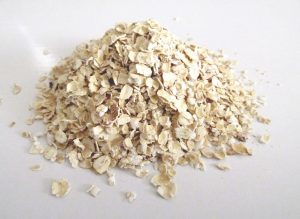 There's nothing better than a warm apple or rhubarb crumble during a long English winter, and apart from the sugar, butter and flour, it's actually quite healthy! That's what people tell themselves anyway, but really it's just the fruit that's healthy. So why not try using oats as the crumble base instead of flour, stevia instead of sugar and either almond butter or coconut oil instead of regular dairy butter?
Stevia instead of sugar in cakes and sweets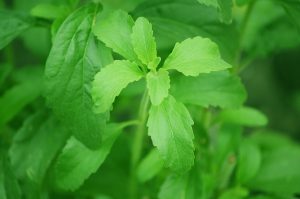 We've already mentioned stevia a couple of times and that is because it is such a fantastic and easy substitute for absolutely ANYTHING that calls for sugar. Stevia is a natural plant-based sweetener with far less calories than sugar. It comes in a liquid or powder form and works in cakes, sweets, biscuits and any other desserts you can think of!
Apple cider vinegar instead of oil-based marinades and dressings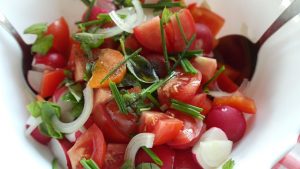 Give your salads and marinades a delicious bitter twist by making an apple cider vinegar-based dressing instead of an oily or creamy one. Apple cider vinegar is a powerful antimicrobial, which can kill certain harmful bacteria. It is also known to lower blood sugar levels and have some benefits for heart health.
Garlic and green herbs instead of salt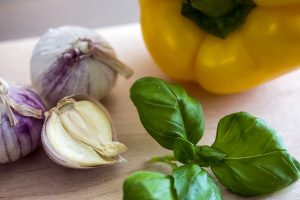 You don't need to rely on salt for taste – have some garlic and herbs handy – either fresh or in powder form to add a bit of taste to your meals.
Seeds instead of croutons in soups and salads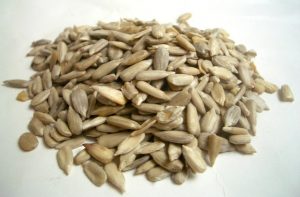 Yes, croutons give soups and salads a nice crunchy bite, but do you know what else does? Seeds. Try pumpkin, sunflower, sesame and poppy seeds for a delicious, nutritious crunch. Seeds are high in fibre and vitamin E but they are also quite fatty, so sprinkle them on in moderation.
Cauliflower instead of flour and butter in pizza bases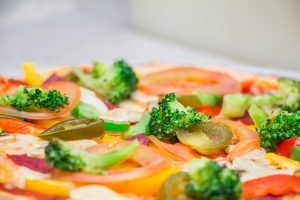 If you want to treat yourself to a homemade pizza and want to make it healthy, try your hand at a cauliflower base instead of a floury, buttery dough base. I won't lie, it doesn't taste the same but it makes a nice texture and if you like cauliflower, it tastes fantastic!
Keen to try any of our suggested alternative ingredients? We'd love to hear from you! Let us know how your experiments go with a comment below.